Your guide to changing accounting software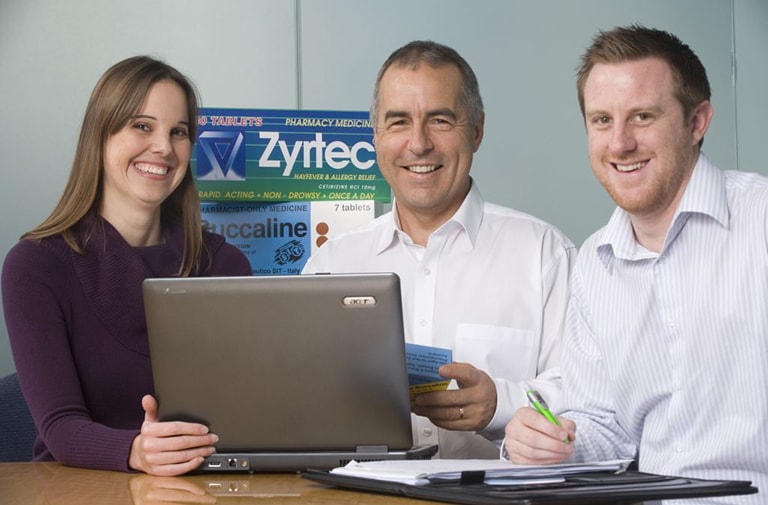 "I know by line item, by product and by company exactly what the turnover for our sales reps is on a daily, weekly or monthly basis."
Jim Davis, Managing Director, Pharmabroker with Nyree Voogt (left) and David Scott (right), of Top Flight Computer Services
1. Review your current system
The first thing you should do if you are considering changing or updating your accounting system is to evaluate your current system – What do you like about it? What do you find difficult, frustrating, or even impossible? What additional features can you think of that would make managing your business easier, faster, more efficient? Try to involve as many staff as possible in this exercise, particularly those who use the system most, and keep a written record of the pros and cons as well as the wish-list you end up with as a result.
Before you go too much further, it's also a good idea to take stock of your current hardware, network and operating system. If you are thinking of upgrading your computer system, it may pay to do this before installing a new accounts package. If you are not planning to upgrade, you still need to know details of your hardware, operating system and network configuration, as it is probably one of the first questions suppliers will ask you when you contact them for information about their products. You may find it useful to put this information in a table and/or diagram, which you can give to potential suppliers to help them supply you with accurate advice and quotes.
2. Prioritise the lists
Once you have identified what's right and wrong with your current accounting system, and listed additional features you would like, you need to decide how important each of the items on the list are to you. Of the things you like about your current system, which must you keep? Are there any you could do without? Of the problems you have with your current system, which ones absolutely must be solved? Are there some items on your wish-list which are critical to improving your processes? Which features on the list would be nice, but not essential for the success of your business?
Again, involve your staff in the prioritisation process and remember that things you need to do frequently are generally more important than those done less often. The more often a task is performed, the more impact it will have on your business if it cannot be performed quickly, easily and accurately every time.
3. Work out a realistic budget
Having worked out what you want from your new accounting system, the next issue to consider is how much you want to spend. While there will be costs involved in purchasing software and user licenses, it is important to consider the following additional costs which you may need to budget for:
System upgrades
Is your computer system suitable for running a new accounting package that will meet your identified needs? Bear in mind that hardware which is more than three years old may make even the best new system slow or unreliable, and an out-of-date operating system may be incompatible with the latest applications. In addition, if there will be more than four people using your accounting system, you should think about installing it on a network with a dedicated server to ensure maximum efficiency and reliability.

If your computer system does not make the grade, think about what costs will be involved in bringing it up to scratch – New or additional workstations? Operating system upgrade? Addition of a network or enhancement of an existing network?
Getting the new system operational
This should include staff training and data conversion as well as installation and set-up costs. Remember to include staff time in your budget in addition to any outside consultants' or trainers' fees. Budget additional staff time if you will be entering your records from scratch (as opposed to converting data from an existing system).
Security
Hopefully you already have good backup systems in place. However if you do not, you may need to add extra to your budget for backup hardware, software and media. You may also need to install an Uninterrupted Power Supply (UPS) and develop a Disaster Recovery Plan to ensure that your data is safe even if your system (or an operator) fails.
Customisation
If you think you will require any customisation of your system – e.g., documents, reports, links to other systems – allow for staff time and/or outside consultants' fees to develop these.
Ongoing costs
If you do not already have a maintenance budget for your accounting software, set aside a portion of your annual operating budget to cover the cost of regular updates to the system in the future. This should help you to avoid large one-off expenses when you come to upgrade, as well as allowing you to enjoy the benefits of using up-to-date software which is compatible with the latest hardware and operating systems. You should also allow a certain amount in your annual budget for training new staff on the system, and for any costs associated with obtaining help and/or support for the software.
4. Ask advice
Now that you have a budget and a list of priorities, it's time to start asking questions. Before you approach any software companies, talk to others in your industry about the systems they use. Ask them the same sorts of things you thought about when reviewing your own existing system – What are the system's good points? What are its limitations? Is it reliable? And, most importantly, would they recommend it? If the answer to this last question is anything less than a definite "Yes", ask why, and find out what alternatives they might consider.
Another person you should consult at this stage is your accountant. Find out what information they need from your system, and in what format. Your accountant may also be able to suggest some software programs that he or she has been impressed with. Finally, you may like to enlist the help of a business consultant or specialist for independent advice on which systems may meet your needs.
5. Develop a short-list
Now that you have done your homework, you are ready to contact some software resellers for more detailed information on their systems. This will help you to develop a short-list of options to evaluate more thoroughly. While your prioritised list and budget will be key factors in narrowing down your choices, you should also compare the following aspects of each system:
Support
What support is available for the system (e.g. manuals, online help, telephone or email)?
Is the support provided in a suitable timezone?
What hours is the support available? (This is especially important if the support is not local.)
What is the cost of the support?
Training
What training is available?
Who provides the training and where is it held?
What is the cost of the training?
Integration
How easily can the system be integrated with other systems that you use (e.g., MS Office, email programs)?
The future
How up-to-date is the technology?
How will the software be kept up-to-date in the future?
Does the supplier guarantee the availability of upgrades, support and training for a minimum time period?
Is there a maintenance or upgrade contract available?
If not, why not - has development on the software ceased?
Extra costs
What will it cost you if the system breaks down?
Under what conditions will you be responsible for any losses incurred due to system failure? (Your choice of operating system, hardware and/or power supply may affect this.)
Are there any additional one-off or ongoing costs that you should know about (e.g., running additional companies on the system)?
6. Evaluate
Once you have identified one or more packages that may meet your needs, ask your local reseller for a demonstration of the product. As with the review and prioritising exercises performed earlier, it is important to invite your staff to the demonstration. If you have several staff who each perform different functions, include at least one person from each of the major functional areas as they will identify strengths and/or weaknesses in the system that others may not notice. Ensure you give sufficient notice and allow enough time for the demonstration, so that all those involved have an opportunity to ask questions and evaluate the software.
During the demonstration, refer to your list of priorities and ask questions about anything that is not clear. You should also take this opportunity to evaluate the reseller's knowledge of the product, as this can be an indication of the quality of the support provided. If the reseller cannot answer your questions immediately, how quickly can they get an answer from the software house? Make notes of your questions and answers, as well as strengths and weaknesses identified.
After the demonstration, go over your list of priorities again with the notes you made, discussing how the software demonstrated meets your needs, how the strengths of the system could benefit your business, and how you will overcome any identified weaknesses. If you choose to evaluate several products, you should also use this exercise to compare them against each other.
After your evaluation is complete, you should be able to make your purchase secure in the knowledge that you are making the right choice for your business.