Customised for you
Your business is unique so it makes sense to use accounting software that reinforces what makes you special to your customers. Read how Accredo is designed to meet the specific needs and budget of your business, while delivering all the power and flexibility you would expect from an enterprise-level system.
Work the way you want to
Accredo's practical user interface lets every user work in the way that suits them best. Because you want to spend your time working in the system, not working out how to use it, Accredo is simple, flexible, customisable and consistent.
Work faster
Everybody wants to work quickly and efficiently, and in Accredo everybody can. With both mouse and keyboard options for all key tasks, data entry staff can work exclusively from the keyboard, while management can just point and click to obtain reports and other data.
Error messages are also super-friendly, moving your cursor directly to the field relating to the error – no annoying dialog boxes to close before you can continue your work.
Work smarter
Why would you waste your valuable time visiting unnecessary data and fields? Accredo lets you customise your grids and lookups to show only the information you are interested in, in the order you require it.
For example, when entering invoices, make your product code and quantity the first two columns on the invoice lines grid for super-fast, super-smart data entry.
Work easier
There is nothing more frustrating than having to re-learn a new set of controls when you start working in another part of a system. You will find that toolbar icons, keyboard shortcuts and menus are consistent across all Accredo products, modules and screens. So, once you are familiar with one area, you will have no trouble using the whole system.
---
Automate, facilitate, eliminate… celebrate!
Accredo's automation tools make it easy to control your organisation, while reducing time-consuming drudgery and the potential for human error. Meanwhile, you get to focus on the more exciting challenge of growing your business
Delegate, but stay in charge
Your staff need the freedom to make deals with customers, but you need to know you can keep their promises, and make a profit. Use Accredo's powerful scripting tools to apply minimum profit margins to users, customers, products. Do the same with delivery times, or add reminders about delivery requirements for certain customers, waiting times for out of stock items or planned price changes.
Reduce tedious data re-entry
We thought you probably had better things to do than re-keying information already in your system, so we developed Accredo's duplication functions. When goods are returned for a credit, just duplicate the original invoice and save it as a credit note – no re-entering data, and the prices and product codes are guaranteed correct.
Eliminate repetitive drudgery
Why waste hours calculating freight charges and hand writing address labels when Accredo can do both, and add the charge to your invoice, with a single keystroke? New salesperson? Don't spend hours updating hundreds of customer records – let Accredo do it with the click of a button. And let Accredo automatically print or email your reports to the right place at the right time, every time.
---
Open up your options with open periods
Revolutionise the way your business works with Accredo's open period accounting. Never again experience frustrating end-of-period bottlenecks or risk costly mistakes waiting for the 'right' period to enter data into your system.
Don't stop
In most businesses, customers don't stop calling with orders just because it's the end of the month. Maybe you even process orders months in advance. Or perhaps your accountant is a bit slow to process your adjustments. It doesn't matter when you use Accredo's open period function to enter your data directly and immediately into the period where it belongs – past, present or future.
Don't worry
The status of periods in Accredo is strictly controlled by user and module – you decide how many past and future periods each user has access to in each module. And once your GST Return is accepted, the system will not allow any further GST transactions to be processed to that period. So you are assured of your data integrity, auditability and security, while still benefiting from streamlined business processes.
---
Get straight 'A' reports
A good accounting system does more than help you manage your finances, it helps you manage your business. If it's in your system, Accredo reports on the information you need, in the format you want it.
Do it your way
Every business needs to report on similar core information. But when you use the built-in report customisation tools that come with each core Accredo module, you'll obtain exactly the information you need, looking the way you like it, grouped to suit your particular business demands.
And forget about all that paper – with Accredo, save your reports as PDF files for emailing or distribution online, provide them as Excel or CSV files to allow your staff, customers or suppliers to use the data in other applications, or view them on-screen and save them electronically.
Do it yourself
You don't know anything about programming? That's OK. To customise Accredo core reports, you only have to know what information you need. Then select the module and report type, specify data and fields to report on and apply filter and/or sort criteria in the user-friendly customisation windows. And if you change your needs (or your mind), just edit your report or create a new one following the same simple steps – no need for expensive and time-consuming technical assistance.
Cheat if you want to
Never again wade through pages and pages of reports to find the record you need – use Accredo's filtering tools to isolate transactions with a specific value or dollar range, or sort customers by the value of their business.
---
Build your brand
The business documents you send your customers and suppliers are an integral part of your organisation. They can say a lot about you, as well as how much (or how little) you value your relationships. Use the custom document designers included with all Accredo modules to maintain total control over the impression your business makes – on paper, on screen and online.
Stand out from the crowd
Your company image is important, and standing out from the crowd is critical to your success. So tell everyone that your business is smart, strong and savvy – personalise your statements, invoices, quotes, orders and other documents with your logo, formatting and branding using the Accredo document designers.
Give them what they want
Just as your business is unique, so is everybody else's. So not all of your clients, suppliers and other contacts want (or need) to see the same information from you. So use the Accredo document designers to link extra-detailed (or extra-simple) statements to certain customers or groups. Print pictures of items on quotes. Or add special messages when certain products appear on an invoice. You still enter the information the way you like it, but your recipients see it the way they prefer it.
The future is here
As with reports, save and email Accredo documents such as quotes as PDF files to preserve the formatting and your professional image. Or give your clients the convenience of importing your data directly to their system by providing any of your documents as Excel or CSV files.
---
Bend and flex
All business changes over time, so Accredo comes with lots of helpful features to make those changes as seamless and painless as possible.
Change, but stay the same
Your client base expands and you need to restructure your customer codes, or perhaps a supplier changes all of their product codes. Update your records in one easy step with Accredo's alias codes function – the codes will change, but you'll retain a full history of each record.
Merge, but keep the facts straight
Two suppliers merge, or you somehow end up with duplicate records of a product or customer. With Accredo's merge function, combine two or more records simply and quickly without losing valuable historical information from either.
Hide, but remain accessible
It's a fact of life that some products, customers and suppliers won't last the distance, but sometimes what appeared to be a dead duck can turn into a golden goose. If you're not sure, just make the record inactive in Accredo. It won't clutter up your system on a day-to-day basis, but it will still be available for reporting or resuscitation if necessary.
Look to the future, but keep an eye on the past
"If we don't learn from history, we are doomed to repeat it." If you use Accredo, that's unlikely – you can choose to save up to 99 years of history on your system, helping you to analyse your past successes and failures and so determine your future path.
---
What now?
Now that we've introduced you to just a few of Accredo's great features, we hope you'll want to know more. For specific information about any of the Accredo modules listed below or to arrange a demonstration and consultation, contact the Accredo sales team, or talk to any one of our QSPs (Qualified Support People).
Accredo Modules
GL - General Ledger
AR - Accounts Receivable
IC - Inventory Control
IN - Invoicing System
OE - Order Entry
AP - Accounts Payable
PO - Purchase Orders
CB - Cash Book
JC - Job Costing
SA/PA - Sales and Purchase Analysis
EDI - Data Interchange
RW - Report Designer
TD - Table Designer
SP - Special Pricing
Want to know more?
Request further information from us directly.
---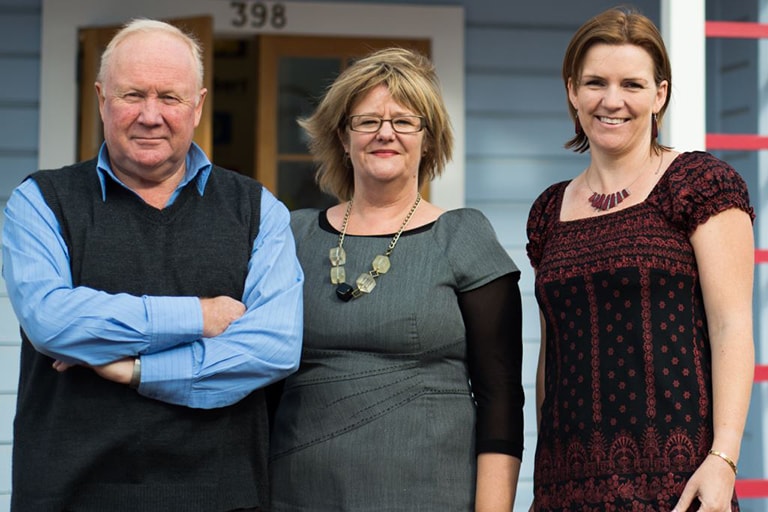 In business the personal touch can make all the difference. It aids communication and builds trust, and it is one of the key reasons Jill Garrett remains loyal to Accredo.
In business the personal touch can make all the difference. It aids communication and builds trust, and it is one of the key reasons Jill Garrett remains loyal to Accredo.
Two key strengths of Accredo are the depth of reporting available in the system and the full foreign currency support that is embedded in all relevant Accredo modules.
Two key strengths of Accredo are the depth of reporting available in the system and the full foreign currency support that is embedded in all relevant Accredo modules.